Top 4 Business Formation Services  
ZenBusiness

$199

+ state fee   

Get a Business Website $100/year

Northwest Registered Agent

$225 

'

Skip the

state fee' 

Northwest Pays It Upfront

Incfile

$149

+ state fee 

Swyft Filings

$349

+ state fee
---
ZenBusiness LLC Formation & Incorporation Service
https://zenbusiness.com
---
Northwest Registered Agent LLC Formation & Incorporation Service
https://northwestregisteredagent.com
Monthly Plans Available
Skip The State Fee
---
Incfile LLC Formation & Incorporation Service
---
Swyft Filings LLC Formation & Incorporation Service
---
We compare our top 4 list of the best online LLC formation and incorporation services for 2021, including these great services; ZenBusiness, Incfile, Northwest Registered Agent, and Swyft Filings.
As an owner of a small business that is beginning to grow in size, there will come a time that you should consider some protection of your assets. You will want to have a way to shield your finances from those of your small business.
One of the most popular legal ways to do this is to form a corporation or LLC (Limited Liability Company) for your company. Creating a corporation online is a quick and easy way to set up a new business, not to mention the affordability of online business formation services today.
Form An LLC In 5 Steps
Visit this ZenBusiness page to get the 5 simple steps 
---
The creation of a corporation for your sole proprietorship or partnership is designed to separate your business assets from your personal assets for taxation purposes.
For several reasons, both LLCs and S-Corps have become the most popular of all structures for new current or planned small businesses. We have listed a side-by-side comparison of the main business structures.
LLC vs. S-Corp vs. C-Corp vs. Corporation vs. Non-Profit
Pros & Cons
Top 4 LLC Service Websites
What Are The Best Corporation Formation Services Online?
This article was designed to introduce the top 4 best business incorporation services available online to help you properly establish a corporation or an LLC at an affordable price for your new business.
Below we compare these 4 great business formation services available today.
---
ZenBusiness Incorporation & LLC Service
#1 LLC Service Website
Editor's Choice 2021

In our opinion, ZenBusiness is the best business incorporation service in 2021. They specialize in helping individuals and entrepreneurs form their businesses using an automated, low-cost service.
If you need a cheap online incorporation with a high degree of service, ZenBusiness is the one.
To create a corporation with the Starter Plan is $49; this includes one year of registered agent services, an LLC operating agreement, and gets your new company formed in about 1-2 weeks with this low-cost service. 
Create a corporation the Pro Plan at $199, and they will get your new business formed in about 4-6 business days! Includes an LLC operating agreement, Employer Tax ID Number (EIN) free registered agent services for the first year.
Get the Premium Plan at $299 and get your business formed in about 1-3 days business days! Includes an LLC operating agreement, Employer Tax ID Number, and free registered agent services for the first year.
Essentially, ZenBusiness is a company that is designed to do the paperwork of local and state filing when forming a new business on your own.

The question is whether ZenBusiness is right for your business formation. What follows in this ZenBusiness review is a breakdown of their services, an examination of what they provide, and whether this is the right path for you to form your own business.
Business Incorporation Services
Plans/ Prices + State Fee/ Processing Time

Starter       $49     Form in 1-3 weeks!
Pro             $199   Form in 4-6 business days!
Premium   $299   Form in 1-3 business days!
How ZenBusiness Works
The company itself is relatively straightforward in terms of what they do. ZenBusiness offers a filing service that is designed to be fast and low cost.
While you will have to pay any state fees associated with forming your own business, the preparation and filing of the paperwork itself are free when you use ZenBusiness.
Also, the company offers a personalized dashboard, so you can track your progress and support staff to answer your questions.
Products and Services Based On Four Tenets
---
Who is ZenBusiness?
ZenBusiness is a small company itself, consisting of roughly 15 people who work together to help others form their businesses.
ZenBusiness was created from Corp Tech, which was a white label formation service designed to help small law offices find new leads for their services.
As Corp Tech was struggling to gain traction, the idea to create a new business model based on helping those wanting to start small businesses was formed.
The founders at Corp Tech teamed up with former HomeAway CTO Ross Buhrdorf, who became the CEO of ZenBusiness, and started the company. With the new vision in place, the next step was to identify what areas needed to be served.
Digital Technology: Arguably, the most critical area was the harnessing of new technology to help make the process of forming a business easier.
The use of technology means that all the products and services the company provides helps those creating a business to get everything submitted quickly and efficiently. 
Customer Support
It's not surprising that many who start up a business have little to no experience when it comes to the requirements from local and state authorities.
This was an area that is underserved across the US, so ZenBusiness was designed to meet such challenges, provide expert guidance, and create low-cost pricing packages to help entrepreneurs and those wanting to create a small business get the help they need.
ZenBusiness Pricing Packages
ZenBusiness offers four business formation service packages designed to meet the needs of your newly formed business. Each package provides different services depending on what is spent. To create an LLC or corporation through ZenBusiness, their Starter plan starts at $49.00 plus state LLC fees… Read more
---
Get a Done-For-You Website from ZenBusiness
Need an easy business website, that is already hosted, with a business email address, domain name, and easy templates to build the website style that you want? 
It doesn't get any cheaper than $125 a year for a professional-looking website.
The ZenBusiness website builder is included with the Premium business Incorporation service plan
https://www.zenbusiness.com/blog/business-websites-update


---
ZenBusiness Customer Reviews
---
From the ZenBusiness website,
ZenBusiness makes it easy to start, run, and grow your business

We're a trusted partner for business owners who want a solution to the challenges of starting, running, and growing a business. We use technology and automation to provide fast and low-cost services, expert support, and a personalized dashboard that puts everything you need at your fingertips.
Our Findings & Final Thoughts
ZenBusiness is simply the best value with the most features in the online business incorporation services space today. They are fairly new but are already a leader in their field.
If you want a company with a longer track record, try Incfile or Northwest, but we think ZenBusiness offers the most in regards to service, value, features, and customer feedback in 2021.
They can also help you get a DBA (Doing Business As) registered if you need it.
Our #1 Pick For Best Incorporation Service 2021
Northwest Registered Agent Incorporation & LLC Service
Northwest Registered Agent


#2 LLC Service Website




Offices In 50 States


'Privacy by Default'
Incorporate for $100 + $125 For Registered Agent Service


https://northwestregisteredagent.com
Northwest Pays State Fees Upfront! 
(California Incorporation Example)
---
When it comes to starting a business, there are so many things that you need to know to launch a company successfully. However, there are more things for you to know to build and grow a very successful small business.
Fortunately, there are companies out on the Internet that is designed to offer help to entrepreneurs in starting and building a business that is either online or offline.
In today's harsh business environment, it is essential for any business owner, whether you have a small or large business to be protected liabilities associated with the company.
This is where establishing a corporation comes into play with small businesses.
Benefits of using Northwest Registered Agent to form an LLC or corporation.
#1 Balanced approach in business – Northwest Registered Agent took a minimalist approach when they establish their business. They set things up to be able to provide the necessary services without going to an extreme.
That meant they did not have to set their prices too high and not be able to offer enough benefits for the cost.
#2 Offers the right amounts of services to its clients – Northwest Registered Agent offers a very focused number of facilities in order not to overextend themselves. As a registered agent, they fit perfectly in with the incorporation process.
Since part of the process is to have a registered agent for your business to represent the business interests when the need arises. Since they offer a narrowly focused menu of services, you will be assured of the best possible service.
#3 Their business model makes them the perfect company – The fact that they are a registered agent and narrowly focused their setup is nearly complete to help as many people as possible to protect their business from almost all liabilities.
Our Findings & Final Thoughts
Northwest Registered Agent is an online business that offers its clients several business formation services that are very narrowly focused. By doing this, they can use all of their resources to provide each client with that service.
They specialize in setting up LLC's and corporations for individuals who are wanting to have the financial and legal benefits that it offers.
Professional Incorporation & LLC Formation Service
Our #1 Pick For Top Registered Agent Service 2021
Visit Northwest Registered Agent
 Incfile Incorporation & LLC Service

#3 LLC Service Website


500,000+ Businesses Formed!
Incfile Registered Agent Services
First Year Registered Agent Service Free!
There has been a steady growth in online incorporation services recently but one company that has been doing this for many years is Incfile.
Incfile is headquartered in Houston, Texas that specializes in helping entrepreneurs get their small business started. Since 2004, Incfile has helped more than 500,000 people get their business started on the right foot.
Their system that they developed is based on their knowledge and experience of superior business practices.
---
Incfile's Free Silver Package LLC Formation, and Incorporation Service
Free Registered Agent Service For One Year Included
The Gold LLC Formation and Incorporation Service
Includes An Employer Identification Number (EIN)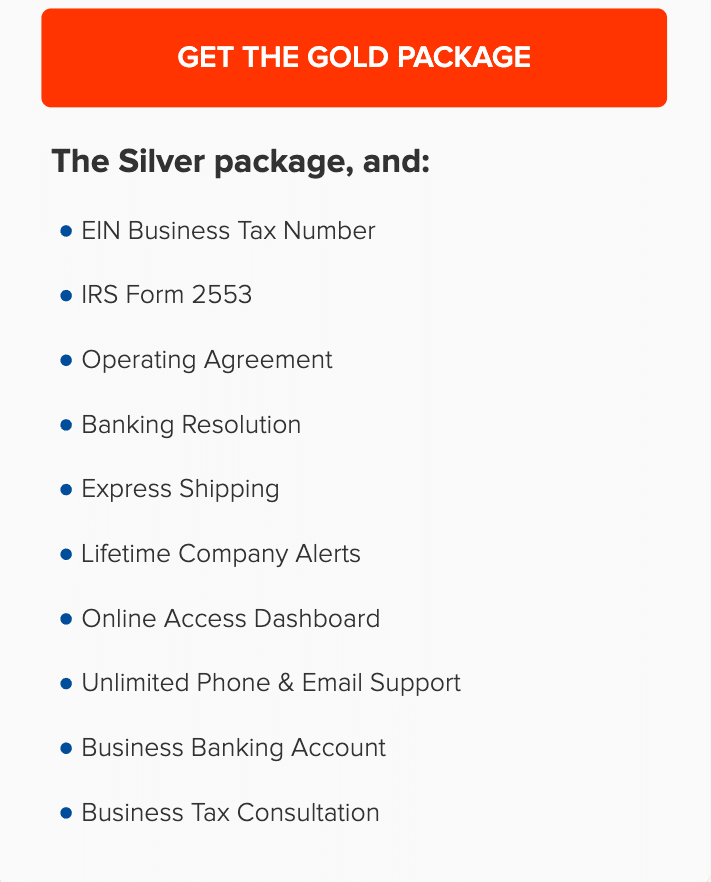 The Platinum LLC Formation and Incorporation Package
Includes Employer Identification Number, Website Domain Name, and Business Email
5 Reasons to choose Incfile
#1 You will talk with one of our specialists, not a salesperson – Incfile.com does not have salespeople who try to sell you a product or services. Instead, they employ incorporation specialists who have an average of 6 years or more of experience.
They will assist in ensuring that each and everyone they help gets the best possible service.
#2 The process is straightforward – The business incorporation process that they established is straightforward to figure out. Since they are not interested in simply selling you something, they have revamped their signup process.
No need to worry about having to figure out a complicated signup process.
#3 Unbelievable value – Incfile.com's low price is one of the best in the business, and no company can offer more for such a low price.
You never have to worry if you will be stuck with hidden fees and you won't be charged shipping costs, ever.
#4 Incorporating businesses is the sole purpose of their business – Unlike many other businesses in this category that offer many different services, Incfile only does business incorporations.
This allows them to be singularly focused on providing every client with the best possible results that they can.
#5 Support never ends – They never stop supporting the businesses that have signed up for their services. They are always there when needed, and that includes important notifications to ensure that every client reports to the state as required by regulation or law.
Each of the packages that you will have to choose from includes many valuable features.
Each of the features that are included in the package is designed to make things better for each client. Below is the list of the features that are part of each package being offered to each of its paid clients.
● Verification of the business name availability
● Helps to prepare all forms and articles properly
● Guarantees next business day processing
● The first year of agent services is free
● Free lifetime notifications
● Tracking of order status online
● Offers free business tax services
● Lifetime customer support services
● All incorporation documents are available online
---
Incfile Customer Reviews on Shopper Approved 2021
---
Our Findings & Final Thoughts
Incfile is one of the top incorporation specialists on the Internet, with many years of experience, their team of agents has an average of 6 years of experience.
Since they just work on formations and registered agent services, they can put all of their focus on every client.
Their low price setup fee is one of the lowest on the Internet, and it represents a tremendous value for all of their clients. Read more on Incfile here.
Swyft Filings Incorporation & LLC Service
Benefits to the business owner to choose Swyft Filings
Swyft Filings has many things to offer all of its client businesses, and they treat every one of them equally. You can be sure that they will ensure that everything that they can do to get your company incorporated for you.
Below is a list of just a few of the benefits you will get by choosing Swyft Filings online to take care of your business's incorporation needs.
#1 Highly experienced and trusted incorporator – The people at Swyft Filings are highly trained and extremely knowledgeable about all of the forms and requirements necessary to help you incorporate your business.
They specialize in all types of business formations, including setting up an LLC or corporation.
They have developed a long-standing reputation for being delivering on their promises. You know when you contact them you can trust that they will get you taken care of.
#2 Top-notch customer support – They have put together a staff of highly trained, and experienced customer service individuals. You can be sure that if you ever have any questions about your case, they will be on top of it and be there the whole way until you have a resolution.
All you have to do is call them, and they will be there to help you in any way that they can.
#3 Quick turnaround times – In business, time is money, and if you have to wait on things, it could end up costing you big time. Fortunately, Swyft Filings know precisely what needs to be done to help you get your business incorporated as an LLC.
While there are so many different rules and regulations that are continually changing, Swyft Filings can quickly navigate the rules and come up with the right answers.
Each of the incorporation packages that are being offered by Swyft Filings contains several benefits
● We can verify if your company name is available
● We do all the preparing of the Articles of Organization
● We will file all the necessary documents with the Secretary of State on your behalf
● We are dedicated solely to business
● All of our services are 100% guaranteed or your money back
● All documents related to your incorporation are accessible online
● Receive a Certificate of Incorporation
● Provided lifetime customer support
● All papers will be delivered to you
Our Findings & Final Thoughts
Starting a business is a dream that many people have these days, and in this challenging business environment, you want to be sure that your finances are protected.
One of the best ways to be sure that your assets are separate from those of your small business is to form a corporation. There are several options when it comes to which type of business model you want to have for your new business.
The S-Corp is the most common type of corporation for entrepreneurs. Swyft Filings is an online company that specializes in helping business owners establish a corporation for their business. 
They offer several services, including LLC and other types of corporations. They have staff with plenty of experience and training in helping people set up LLC's. Read More On Swyft Filings
---
Runner-Up CorpNet
CorpNet




Runner-Up LLC Service
https://www.corpnet.com
Corpnet is an online company specializing in help people start a new business. Entrepreneurship is not a new concept, but there has been a  recent explosion of people looking to start their own businesses.
Unfortunately, for many, they find themselves running into unforeseen financial situations with the company.
This is where a company like Corpnet comes in; they offer a wide range of business-related services that focus on business formations like; corporations and LLC. For over 20 years, CorpNet has been assisting entrepreneurs with online incorporation services.
Benefits of using Corpnet for incorporating your business
#1 Simple to set up – CorpNet makes it easy for you to set up your business as a corporation or LLC. They know all of the necessary steps, forms, and articles that are needed to be filled out.
They can help you ensure that all of your "i" are dotted and "t" are crossed. They can also help to make the process happen as quickly as possible.
#2 Protects you from personal liability – One of the biggest dangers of starting a business is the possibility of being sued by someone for any reason. As the sole proprietor or partnership, you could easily be subject to the lawsuit.
However, this is not the case if your business is formed as a corporation or LLC. You are personally shielded from any liability, and therefore your assets are also shielded from being subject to forfeiture or seizure to settle a debt incurred by the business.
#4 Tax protection – The primary benefit of an S-Corp or LLC is that you can choose to simplify and possibly reduce some tax liabilities. This way, you will only be responsible for the small amount of taxes own on any salary that you pay yourself for running the business. It's best to speak to a licensed CPA about this.
All other taxes are assessed at the corporate tax rate.
#5 Management flexibility – One of the big draws to an S-Corp or LLC is that it does give you flexibility when it comes to the management of your business. With the ability to choose between self-management and manager management that is appointed by you.
In a manager-managed situation, you designate who will handle the day-to-day operations and make individual decisions in your absence.
In owner management or self-management arrangement, you make all of the day's decisions for your business.
Our Findings & Final Thoughts
CorpNet is an online company that specializes in helping people who are looking to set up a new business or incorporate a recently started business to take advantage of some of the benefits that come with it.
An S-Corp and LLC are two of the most popular forms of corporations, and that is what CorpNet does best.
They have an experienced staff of individuals with tons of knowledge and experience.
They created individual packages that offer a set of features that spells out precisely what they can do for you at the price that they have set up.
---
For additional info visit our Incfile review, our Swyft Filings review, or our ZenBusiness review.
---
S-Corporation & LLC FAQs
What is an LLC?
An LLC stands for Limited Liability Company. An LLC is a business entity that is separate from its owners.
The owners of an LLC are also known as members. Limited Liability means that business owners are usually not personally responsible for company lawsuits or company debts.
Business owners often choose the business structure of an LLC over a corporation because of the flexibility of the reporting and filing obligations as compared to a corporation.
An LLC can be a one-person LLC, and filing taxes are similar to that of a sole proprietorship. The IRS taxes single-member LLCs as sole proprietorships and multi-member LLCs as partnerships.
What is an S-Corp?
An S-Corporation (S-Corp) is not a business entity; an S-Corp is a way a business has chosen to be taxed in regards to the IRS. A Corporation (C-Corp) and an LLC are business entities. S-Corps require a registration process, and they provide attractive tax benefits such as avoiding double taxation of income. In other words, income is not taxed twice.
What is a Registered Agent?
A registered agent is a person or company that is designated to accept, send, and process legal documents on behalf of the corporation or LLC.
Every state requires business entities such as corporations, LLCs, partnerships to appoint s registered agent during the formation process. Registered agents are needed in the case of a lawsuit.
For a lawsuit to go forward, the courts require proof of notification that the other party has been adequately notified and this process can be handled through the registered agent.
Online legal services like ZenBusiness, Incfile and Northwest Registered Agent provide these services.
Visit our page Best Registered Agents
---
Comparison of LegalZoom vs ZenBusiness
Since ZenBusiness is one of our top picks for the best incorporation service and Legalzoom happens to be the most well-known brand in this field, let's compare the two incorporation services. 
If you are considering the idea of starting a new business, and especially if you are looking at forming a corporation or LLC and want registered agent services, one option is to check the requirements in your state and begin filing the proper documents on your own.
Another option is to hire a reputable service that can do the work for you.
There are some advantages, especially in terms of cost that may lead you to consider doing all the legwork. But the truth is that one mistake or miscalculation may lead you into a considerable amount of trouble.
That is why so many people who form up a corporation or hire a registered agent look to a professional company like LegalZoom and their strong brand recognition to do the work.
LegalZoom has established its reputation over the years, thanks in large part to an effective advertising campaign that made them seem the only choice.
However, there are other contenders in the field, and one of the fastest-rising is ZenBusiness. Both companies have earned a strong reputation for helping people across the US create corporations or LLCs when forming a business.
Plus, providing registered agent services that are required by all states for business operations.
---
Founded on March 12th, 2001, LegalZoom became the first prominent online legal technology business. Its goal is to help customers through a wide range of legal services that most do not require hiring a lawyer or law firm.
For the most part, LegalZoom provides the following;
Business Formation Documents & Services

Registered Agent Services

Living Trusts & Wills

Copyright Registration & Trademark Applications
It is the business formation and registered agent services that will be the focus of this review.
However, it should be noted that LegalZoom is considered an innovator, being one of the first companies to offer such services online and popularizing the notion that many legal services can be performed without hiring an attorney.
ZenBusiness started considerably later than LegalZoom. Initially, the founders started a company called CorpTech which was a white label formation service designed to bring leads to small law firms to help build up their business.
With the success of CorpTech teetering, a new effort was made to form a company that would help small businesses get off the ground. That was the creation of ZenBusiness.
What was discovered in terms of small businesses was that they lacked the sophisticated platform to manage their products and services. Plus, the experts needed to help guide them in forming and running their own companies.
The result was shaping ZenBusiness to meet the needs of small businesses which included services such as incorporating, LLC formation, and registered agent services.
Incorporation Price Comparison
LegalZoom offers an Economy Package that is $79, not including state fees. The services provided by LegalZoom includes the following;
VIP Processing

Express Shipping

All Paperwork is Handled
Keep in mind that this is a one-time fee. If you want extra services, then you will need to add them to the package. Some of the services may require an additional annual cost.
ZenBusiness offers their incorporation package starting at a reasonable $49 per year, although you will have to add in-state fees and they vary by each state. Plus, this service also provides an Operating Agreement and registered agent services as well.
With each of the three main ZenBusiness packages you receive the following;
ZenBusiness files documents on your behalf

Filing report alerts handed annually

Two free changes to filings per year. Remember that state fees still apply

Oversees efforts to regain good standing within a state
If you miss a filing or a document that puts you out of favor with a state, ZenBusiness will oversee your efforts to make up the missed work. This can be quite helpful with oversights as you run your own company.
ZenBusiness has a free "Basic" package that includes business name search and the filing of corporate documents but it is very basic and most people either skip this or purchase a lot of add-ons. The most popular package is the Pro Package.
ZenBusiness offers three main packages for their incorporation services;
Starter: $49 per year plus State fees
Articles of Organization

State Filing & Verification

Name Availability Search

Personalized Dashboard

Real-Time Chat Support

Operating Agreement and Bylaws

Registered Agent Services

Corporate form delivered in 3 to 4 weeks
With this package, you are paying for support and the registered agent service fee.
Pro: $199 annually plus State fees
Everything in the Starter package

Worry-Free Compliance Guarantee

Employer ID # (EIN)

Form delivered in 1 to 2 weeks
This is the most popular package that ZenBusiness has for its business formation services
Premium: $299 annually plus State fees
Everything in the Pro package

Business Email Address

Domain Name Registration & Domain Privacy Protection

Form delivered in 3 to 5 business days
The Premium package is designed for larger businesses with more needs.
In comparing both LegalZoom and ZenBusiness, what stands out is what is included in the packages.
While LegalZoom may seem to be a cheaper choice at first, it's also missing many of the features that ZenBusiness includes with its services.
Arguably the most important is the registered agent services. ZenBusiness includes them for the first year, even if you choose the Starter package of $49. Afterward, it's $99 per year. LegalZoom does not include this service, but if you want it, they charge $159 per year.
Another difference is the operating agreement, which is free with ZenBusiness but costs an additional $99 from LegalZoom.
Price Winner – ZenBusiness
Registered Agent Service Comparison
Sometimes known as a resident or statutory agent, many who are not in business may not understand or even be aware of what a registered agent performs for their companies.
Essentially, a registered agent acts as a go-between from the company to the state if paperwork is needed to be sent.
This means if the state needs updated paperwork, a summons or court filing has been made, or if a new law requires notification of changes to current regulations must be sent to the company, it is instead sent to the registered agent.
Not having a registered agent can be detrimental to the company. The company owner can act as a registered agent; it is usually not desired because of the increase in paperwork and the demands from the state.
Having a registered agent makes sense for business owners who can now concentrate on running their businesses and getting informed of any legal changes, obligations, or requirements from the state through their respective agents.
Both LegalZoom and ZenBusiness offer registered agent services. The difference as noted in forming a corporation or LLC is that ZenBusiness includes the service as part of their Starter package for the first year and $99 annually after that.
LegalZoom offers such services for $159 per year, which is considerably higher in cost.
Since there are no visible differences between the registered agent services of either company, it is clear that ZenBusiness offers the superior price.
For those who are looking for registered agent services, signing up with ZenBusiness makes sense whether you are just starting or need a new registered agent as the cost is significantly lower.
Winner – ZenBusiness
Customer Service Comparison
If LegalZoom has a clear advantage, it is in providing quick customer service. This is due in large part to the company's effort at upselling their services to their customers.
However, the result is that a significant portion of LegalZoom is dedicated to responding to their customers' needs.
ZenBusiness is quickly catching up, offering a reliable customer service experience. In the early days, ZenBusiness was too focused on delivering its primary services, so its customer service branch was lacking.
That area has now been addressed, and while LegalZoom still has advantages in terms of contact points and information, ZenBusiness is not far behind.
In the end, choosing between Legal Zoom and ZenBusiness means selecting which company offers the best combination of business formation and registered agent services with the right support, including customer support.
In taking all of this into account, Zen Business stands out. While not as well known as Legal Zoom, it does offer the right combination of services at a reasonable price.
Both the plans and pricing of the services provided by ZenBusiness are simple, easy to understand, and straightforward. They also offer excellent packages of services that are tailored to the needs of your business.
LegalZoom is somewhat more complicated. Given that this is a business model designed to attract new customers, it's perhaps not surprising that much of LegalZoom's efforts at customer service are directed towards upselling new products and services.
Winner – Tie 
Online Incorporation Service Reviews
LegalZoom Customer Reviews
ZenBusiness Customer Reviews
Admittedly, there are some things about Legal Zoom, which are attractive, but this review is about the total package of services that most people starting up a business will need.
Legal Zoom certainly has its advantages, but overall Zen Business is the one to look at first when you are starting up a new business and need registered agent services you can trust.
LegalZoom vs ZenBusiness

  Winner ZenBusiness!
---
Additional Reading On Business Formations
What is an LLC Operating Agreement?
---
For additional products and services, business owners should check out this list of the best places to order business checks online and this article on additional formation services for startups.