We test and compare the best online LLC formation and incorporation services for 2022, including these excellent services; ZenBusiness, Incfile, Northwest Registered Agent, and Swyft Filings.
As an owner of a small business that is beginning to grow in size, there will come a time that you should consider some protection of your assets. You will want to have a way to shield your finances from those of your small business.
One of the most popular legal ways to do this is to form a corporation or LLC (Limited Liability Company) for your company. Creating a corporation online is a quick and easy way to set up a new business, not to mention the affordability of online business formation services today.
Top LLC Companies Compared
Pricing Includes LLC Formation With One-Year Registered Agent Service
This next section lists the best LLC service providers currently on the market. We contacted each company, and we compared their customer service and support. We also checked the prices and processing times. We can now provide insights from our test results on critical areas like pricing, features, processing times, and help and support.
Our favorite pick for best LLC service in 2022 is Northwest Registered Agent.
For 15 years, Northwest R.A. has been a leader in business formations and registered agent services. No other LLC service can top Northwest's pricing and features.
Best LLC Services 
Northwest Registered Agent
LLC Formation & Incorporation Service
Offices In 50 States
Discounted Business Formation Price $225  $39
(Monthly Plans Available, Any State!)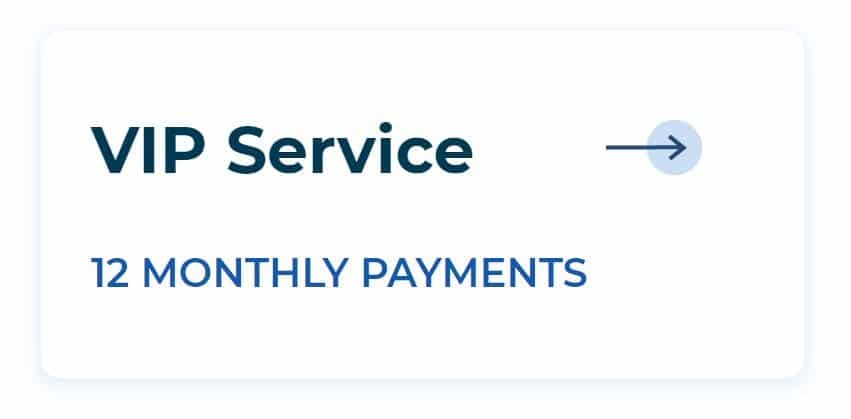 California: LLC Formation + Registered Agent + State Fee = $37/mo. 😲
$37 Gets You Out The Door With A Newly Formed Business in California or Georgia! 😲
https://northwestregisteredagent.com
California LLC $37/mo
Texas LLC $54/mo
Georgia LLC $37/mo
Monthly Plans!
Skip The State Fee
Northwest pays state fees upfront
Monthly Plans Available
When it comes to starting a business, there are so many things that you need to know to launch a company successfully. However, there are more things to know to build and grow a very successful small business.
Many companies on the Internet can help entrepreneurs start and build a business online.
Any business owner in today's challenging business environment must be protected against liability.
Small businesses can benefit from establishing a corporation.
Formation + Registered Agent Service $225  $39+ state fee
Northwest Registered Agent offers many benefits for forming an LLC or corporation.
#1 A balanced approach to business 
The Northwest Registered Agent used a minimalist approach to establish their business. They designed the business to be able to provide the services they need without being too extreme.
This allowed them not to set prices too high or not provide enough benefits.
#2 Provides the right amount of services to its clients 
Northwest Registered Agent offers a limited number of facilities that are not too expensive. They are a registered agent and fit in perfectly with the incorporation process.
A registered agent is necessary to represent your business interests in the event of a legal issue. You will receive the best service possible because they only offer a limited range of services.
#3 Their business model makes it the ideal company.
They're a registered agent and are narrowly focused on their almost complete setup to assist as many people as possible in protecting their business from all liability.
Our Final Thoughts and Findings
Northwest Registered Agent offers a wide range of business formation services online to its clients. This allows them to use all their resources to provide each client with the assistance they need.
They are experts in the establishment of LLCs and corporations to provide legal and financial benefits for individuals.
Professional Incorporation & LLC Formation Service
Great Choice for Registered Agent Service in 2022
Visit Northwest Registered Agent
---
Incfile
LLC Formation & Incorporation Service
500,000+ Formations!
https://www.incfile.com
Business formation includes,
Preparing and filing articles of organization
FREE registered agent service 1st year
EIN business tax number
Operating agreement
Banking resolution
Why Incfile For LLC Filings?
Affordable, Professional & Prompt LLC Filing Assistance
If you plan on forming a corporate or non-profit LLC, then you need the assistance of a professional LLC filing company.
Incfile provides professional services that will help you create your new business, whether it is a corporate or non-profit and regardless of industry.
Let's take a closer look at LLCs and why so many new business owners are choosing Incfile to help them form LLCs.
What Is An LLC?
An LLC (or a Limited Liability Company) is a unique type of business that combines characteristics of traditional corporations and partnerships; LLCs have the taxation of a partnership with the limited liability of a corporation, creating a unique situation that is often described as the "best of both worlds."
LLCs have somewhat flexible ownership options and less rigid requirements than other types of business incorporations, which is why they are becoming a highly popular option for new businesses and small businesses alike.
Forming an LLC allows you to separate your business as its legal entity with its debts and legal status; although your taxes will still be tied to an LLC, its separation from your personal assets can be beneficial.
Why People Are Choosing LLCs
There are many reasons why people are choosing to form LLCs more often now than ever before. The primary attractions of forming an LLC for new business include:
Limited Liability Protection; only the LLC is liable for debts and legal liabilities, rather than the owner (or business members) themselves
Pass-Through Taxation; pass-through taxation allows for taxes to be 'passed through' to the personal income of the primary owner and business members
Fewer Ownership Restrictions; Foreign nationals can own and become members of LLC since there are no restrictions regarding residency or citizenship
Minimal Compliance requirements; Compared to other types of businesses, LLCs have very few compliance requirements–for instance, LLCs do not have annual meeting requirements in the same way a standard corporation does.
These are just a few of the benefits of forming an LLC.
Incfile's Services
A sample of some of Incfile's business formation services,
Prepare the articles of organization
Research LLC name availability
Set up a business account (Bank of America only)
Create the statement and designation of the "organizer."
Provide business tax consultation
Assist with filing for an employer identification number
Prepare and file IRS form 2553
Draft operating agreement
A business formation checklist
Provide registered agent services to handle correspondence.
If you want to form an LLC company, Incfile is there to prepare and assist you every step of the way.
Incfile can help you prepare and file the necessary articles of organization; research name availability for your LLC.
Set up a business banking account (Bank of America only).
Create the statement and designation of the organizer; provide business tax consultation.
Help you file for an employer identification number or Tax ID; prepare and submit your IRS Form 2553.
Draft an operating agreement; and much more.
Incfile can also help you with your Registered Agent needs. LLCs are required to have a Registered Agent, which is a designated address for any official state or federal correspondence, such as legal and tax-related correspondence.
Incfile can provide Registered Agent services for just $119.00 per year; they will file your correspondence to your contact address.
1st Year Free
If you use Incfile to file your LLC, you will receive one free year of Registered Agent services.
Customer Reviews
ShopperApproved.com Incfile reviews
Incfile is often listed as one of the best LLC formation services on lists around the web and they are near the top of our Top 4 Best LLC Services
If you are ready to form your LLC with the most professional filing service in the industry, contact Incfile with your information today. 
---
ZenBusiness LLC Formation & Incorporation Service
Highest rated with over 100,000+ formations over the last year!
Fast and simple LLC formation
Worry-free services and support
100% accuracy guarantee
ZenBusiness Headquarters Austin Texas
ZenBusiness, in our opinion, is The best LLC service and business incorporation services in 2022. They are experts in helping entrepreneurs and individuals start businesses.
ZenBusiness is the best online incorporation service if you are looking for a low-cost option with high-quality service.
To form a corporation using the Starter Plan.
This low-cost service costs $49 and includes a year of registered agent services as well as an LLC operating agreement. Your new company will be formed in just 1-2 weeks.
Pro Plan
They start at $199 and will help you get your new company started in just about a year. It takes 4-6 business days. An LLC operating agreement, Employer tax I.D. Number (EIN), and free registered agent services for your first year are included.
Take the Premium Plan
Get your business started in as little as $299. It takes 1-3 business days! An LLC operating agreement, Employer tax I.D. number, and free registered agent services in the first year are included.
ZenBusiness is, in essence, a company that helps you with the paperwork involved in forming your new business.
It is up to you to decide if ZenBusiness is the right choice for your business formation. This ZenBusiness review will provide a detailed breakdown of their services and an analysis of what they offer. It will also help you decide if this is the best way to start your own business.
Services for Business Incorporation
Plans/Prices + State Fee/ Processing Times
Starter In 1-3 Weeks, $49 Form!
ProIn 4-6 Business Days, $199 Form!
Premium In as little as 1-3 days, get your $299 form!
ZenBusiness: How it Works
In terms of their work, the company is fairly straightforward. ZenBusiness provides a filing service that's fast and affordable.
ZenBusiness is free to use for the preparation and filing of paperwork.
The company also offers a personal dashboard that allows you to track your progress and support your questions.
Four Tenets are the basis of products and services.
Who is ZenBusiness?
ZenBusiness is a small business that consists of approximately 15 people who help each other start their businesses.
ZenBusiness was born from Corp Tech, a white-label formation service designed to help small law firms find new leads.
Corp Tech was having difficulty gaining traction, so the idea was born to create a new business model that helps people start small businesses.
Corp Tech was founded by Ross Buhrdorf, a former HomeAway CTO, who later became ZenBusiness' CEO. Next was to determine which areas would benefit from the new vision.
Digital Technology: The most important area is using new technology to make it easier to form a company.
Technology allows companies to submit all their products and services electronically quickly.
Customer Support
It is not surprising that most people who start a business don't have any experience with the requirements of local and state authorities.
This area was underserved in the U.S. ZenBusiness was created to address these challenges, offer expert guidance, and create low-cost pricing packages to help entrepreneurs or those who want to start a small business.
Packages for ZenBusiness
ZenBusiness offers four packages for business formation that will meet your business's needs. Each package offers different services depending upon how much you spend. ZenBusiness' Starter Plan starts at $49.00 and includes state LLC fees. Continue reading
Business Websites
Get a Done-For-You Website from ZenBusiness
Are you looking for a simple business website with an already-hosted domain name and email address? Do you have the templates you need to create the style of your website?
A professional-looking website costs $125 per year.
The Premium Business Incorporation plan includes the ZenBusiness website builder
http://www.zenbusiness.com/blog/business–websites-update.


---
From the ZenBusiness website,
ZenBusiness makes it simple to start, manage, and grow your business.

Our trusted partner is for business owners looking to solve the problems of starting, managing, and growing their business. We make use of technology and automation to offer low-cost, fast services and expert support. You also get a personalized dashboard with all the information you need.
Our Final Thoughts and Findings
ZenBusiness is the best online business incorporation service available today. Although they are relatively new, they are already an industry leader.
You can find a company with a long track record by looking at Northwest or Incfile. However, we believe ZenBusiness has the best service, value, features, and customer feedback in 2022.
If you require it, they can help you register a DBA (Doing Business As).
Form An LLC With ZenBusiness In 5 Steps
Visit this ZenBusiness page to get the 5 simple steps. 
---
Swyft Filings
LLC Formation & Incorporation Service
Swyft Filings LLC Formation & Incorporation Service
Swyft Filings – Fast, Affordable & Simple
Swyft Filings is a business filing and formation service. They help entrepreneurs incorporate new businesses; a big part of this is the LLC business structure. The LLC or Limited Liability Company is one of the most popular ways to create a new company.
Swyft Filings reviews are often very positive toward the company. One of the primary reasons that it is preferred is because it offers many protections for the owner. The LLC helps to shield the owner's assets from being affected by the business, and it also provides a pass-through taxation benefit for the owner. It also does offer some limited liability protection for the owner.
The Swyft Filings, LLC company established a simple, easy-to-follow three-step process that they have used to help thousands of businesses since they launched their business.
The process focuses on speed to help its clients get their business up and running swiftly. With Swyft Filings, the LLC formation process could not be more straightforward.
All you do is sign up, select your level, and once your payment is processed, you can get started. By answering some questions designed to gather all of the necessary information, your team member will use the information required to fill out the appropriate forms and submit the needed forms to the Secretary of State for your state.
As soon as all of your documents have been approved and received from the Secretary of State, you will be mailed your full incorporation package.
To make things extremely easy for its prospective clients to get started, Swyft created their package levels to help the broadest range of people looking to get their business started.
Swyft Filings LLC Prices
Swyft Filing offers three distinct LLC service levels (Basic, Standard, and Premium), and each one has the same basic features plus extra features for each level. The pricing starts at $49 for a basic package, the Standard package with State fees included $149, and Premium with State fees for $299.
---
Basic Package $49 + state fee
 Verify the availability of your company name
 Prepare Articles of Organization
 File Formation paperwork with Secretary of State
 Draft a Statement of Organizer
 Online access to all LLC documents
 Lifetime Customer Support
 30-minute tax consulting
 Provides filing reminders
 Register domain name
---
Standard Package  $149 + state fee
Standard includes all of the features of the Basic Package
 Help register your Federal Tax ID Number
 Custom LLC Operating Agreement
 Custom Banking Resolution
 Custom Organizational minutes
---
Premium Package  $299 + state fee
The package includes all the features of the Basic and Premium packages
 Electronic Delivery of State documents
 Customized Digital LLC Kit
 Free Business Website with web hosting
 Express Filing service
 Fed-Ex delivery service
---
We are comparing two of the more popular LLC service companies that offer their services to people online. While LegalZoom is the veteran of the two, it has been offering its services since 2001; Swyft Filings, LLC, has managed to muscle in and built quite a reputation for itself.
So, we decided to show how the two compare head to head. Below you will find the results of our comparison so that you can make up your mind.
Swyft Filings vs. LegalZoom, Which Is Better?
Swyft Filing, LLC, was able to gain a foothold in the LLC Services market by offering its services at a lower price than the much larger LegalZoom. By winning the price battle, they advanced and nurtured its reputation for providing high-quality services at a considerably lower price.
This helped them explode their member base, and that led to many more clients.
Let starts the comparison by identifying what things that they have in common, and then we will finish off with the things that make Swyft Filing, LLC a better choice, in our opinion.
What features do both Swyft Filing, LLC and LegalZoom share?
Money-saving – Both Swyft Filing, LLC, and LegalZoom will save you money over hiring a local lawyer with experience in business law. LegalZoom's basic services will run you $99, and Swyft Filing, LLC, will save you an additional $50.
Swyft Filing advertises its services for $49.  Swyft Filing, LLC offers many useful services to all of its clients that helps to add to its value. 
Additional Services – Both Swyft Filing and LegalZoom add extra services to their menu of features, including help with Federal Tax ID, Registered Agent services, and other valuable offers.
Swyft Filings, LLC also offers tax consulting services and domain registration, as well. Another significant feature that only Swyft offers is a filing deadline tracking service.
Experience – While LegalZoom has been in business much longer and has developed a reputation for being extremely experienced with LLC setup and other related services, it does not mean that Swyft Filing, LLC, is not experienced.
They have built a client base with thousands of satisfied clients and have a well-trained staff experienced with LLC creation.
Efficiency – LegalZoom offers several levels for its LLC services, and depending on which one you choose will determine what kind of turnaround you can expect for your LLC setup.
Swyft Filing, LLC lives up to its name when it comes to turnarounds that it gets for its clients. They even offer an expedited feature that can make the setup time even quicker for a nominal charge.
Customer Support – Most businesses these days have invested a whole lot of money in beefing up their customer support operations. One of the driving forces behind this is likely that many people point to poor customer service, one of the leading reasons to choose one company over another.
Swyft Filing, LLC has put much emphasis on improving the quality of its customer support.
---
Swyft Filings FAQ
What makes forming an LLC with Swyft Filings the right thing to do?
When choosing to go with Swyft Filing to set up your new business as an LLC, you are gaining experience of a company that has helped numerous companies since it was first created.
Having a specialist that is singularly focused on helping you set up your LLC and fulfilling all of your needs is how Swyft Filing, LLC operates. They are experts in setting up businesses, and if an LLC is what you are looking for, then Swyft Filing, LLC, is perfect for you.
---
What are the significant benefits of going with Swyft LLC Services?
The Swyft Filing, LLC Services Company offers several great benefits to all of its clients. All clients are assigned a dedicated associate capable of assisting the client with every aspect of creating an LLC for their new or existing business. One of the most significant benefits is the flexibility of choosing a management type for business.
You can either choose a member-managed or manager-managed company. The shielding of one's personal assets from the business is another huge benefit of establishing an LLC — no more worrying about being personally responsible for business liabilities.
---
What services does Swyft Filings offer to its clients?
Swyft Filings, LLC, is a full-service business support company. They offer a wide range of financial and legal services online available to all businesses, large and small. One of their specialties is helping other entrepreneurs and business owners set up their own LLC businesses.
They put together a team of well-trained individuals capable of helping their clients navigate the somewhat complicated and tricky process of setting up an LLC. They can also help with setting up S-Corp, C-Corp, DBA (Doing Business As). A highly trained support staff member handles each one of their services.
---
Do they have a full-time customer support staff?
Swyft's customer support system is unique in that you are assigned a team specialist initially, and they are there to help you every step of the way. This includes well after your initial setup period and for life after that. This means that if you have any questions about your LLC, you do not have to place a call and wait for a pool of customer support people waiting for your turn.
You call a number, and you will be speaking to the same person who was the one who helped you establish a business LLC in the first place.
---
Can anyone set up an LLC for their new business?
Swyft Filings, LLC, makes it easy to set up your new business using an LLC format. Most companies can be set up as an LLC and begin getting all of the financial and legal benefits that go along with it.
While the process may seem a little daunting, but with the right people helping you navigate through the setup process, you can rest assured that your business will be in good hands with Swyft Filings, LLC Services Company.
Their teams are well-staffed with people who are very good at doing and can help each client professionally. 
---
Runner-Up CorpNet 
CorpNet
Service for Runner-Up LLC
Corpnet is an internet company that helps people start new businesses. Although entrepreneurship is not new, there has been an increase in people who want to start their own businesses.
Many find themselves in unanticipated financial difficulties with their company.
Corpnet is a company that offers a variety of business-related services, including LLC and corporations. CorpNet has been helping entrepreneurs to incorporate online for over 20 years.
Corpnet's benefits for incorporating your business
#1 It's easy to create- CorpNet makes setting up your company as a corporation, LLC, or partnership simple. They are familiar with all the steps, forms, and articles that must be completed.
They can assist you in making sure all your "i's" are crossed and "t's are crossed. They can help speed up the process.
#2 Protects your personal Liability The greatest danger of starting a business is the risk of being sued for any reason. You could be sued as the sole proprietor, partnership, or partner.
This is not true if the business is a corporation or an LLC. Your assets and personal liability are protected, and your assets from forfeiture or seizure to settle any debts incurred by the company.
#4 Tax protection The main benefit of an S-Corporation or LLC is the ability to reduce and simplify your tax obligations. You will be only responsible for the small amount you pay in taxes for any salary you receive for operating the business. This is why it's important to consult a licensed CPA.
All other taxes will be assessed at the corporate rate.
#5 Management flexibility One of the biggest draws to an S-Corporation or LLC is the flexibility it offers in managing your business. You can choose between managing your business yourself or through a manager you appoint.
You can designate someone to manage the day-to-day operations in a manager-managed environment and take individual decisions when you are not there.
Owner management or self-management arrangements allow you to make all the decisions regarding your business.
Our Final Thoughts and Findings
CorpNet is an internet company that assists people in setting up new businesses or incorporating existing businesses to reap the many benefits.
CorpNet is a leader in creating S-Corps and LLCs, which are both prevalent types of corporations.
The staff is highly qualified and has a wealth of experience.
They have created packages that include various features, clearly outlining what they can do at the given price.
For additional info, visit our Incfile review, our Swyft Filings review, or our ZenBusiness review.
---
Creating a corporation for your sole proprietorship or partnership is designed to separate your business assets from your personal assets for taxation purposes.
For several reasons, both LLCs and S-Corps have become the most popular of all structures for new current or planned small businesses. We have listed a side-by-side comparison of the main business structures.
LLC vs. S-Corp vs. C-Corp vs. Corporation vs. Non-Profit
Pros & Cons
LLC Service FAQs
S-Corporation & LLC FAQs
What is an LLC?
An LLC stands to be a Limited Liability Company. An LLC is a separate business entity from its owners.
Members are the owners of an LLC. Limited Liability is the term that means business owners are not responsible for any company lawsuits or debts.
Because of the ease of filing and reporting obligations, LLCs are often preferred by business owners over corporations.
An LLC can be one-person or multi-member. The filing of taxes for an LLC is similar to a sole proprietorship. The IRS considers single-member LLCs sole proprietorships and multi-member LLCs partnerships.
What is an S-Corp, and how do you define it?
An S-Corporation is not a company entity. Instead, an S-Corporation is a way that a business has elected to be taxed by the IRS. An LLC and a Corporation (C-Corporation) are business entities. S-Corps are subject to registration and offer attractive tax benefits, such as avoiding double taxation on income. This means that income is not subject to double taxation.
What is a registered agent?
A registered agent is an individual or company that accepts, sends, and processes legal documents for the corporation or LLC.
Each state has requirements for business entities, such as LLCs, corporations, and partnerships, to appoint registered agents during the formation process. In the event of a lawsuit, registered agents are required.
A lawsuit cannot proceed unless the court has proof that the other party was properly notified. This can be done through the registered agent.
These services are offered by online legal services such as ZenBusiness, Incfile, and Northwest Registered Agent.
Check out our Best Registered agents page.
Comparison of LegalZoom vs. ZenBusiness
Let's take a look at the two incorporation services. ZenBusiness is our top choice for the best incorporation service, while Legalzoom happens to be the most recognized brand in this area.
You may be considering starting a business or if you want to register an agent's services.
You can also hire a reliable service to do the job for you.
You may want to do all the work, but there are many benefits, especially when it comes to cost. However, one error or miscalculation could land you in serious trouble.
Many people who set up a company or hire a registered agent to help them do their work look to LegalZoom because of their strong brand recognition and professional service.
LegalZoom's reputation has been built over the years thanks to an advertising campaign that made LegalZoom seem like the only option.
ZenBusiness is one of many contenders in this field. They have a strong reputation for helping Americans form LLCs or corporations.
Additionally, all states require registered agent services for business operations.
LegalZoom was founded on March 12, 2001. It is now the most prominent online legal technology company. Its mission is to assist customers with a wide variety of legal services, which most people do not need to hire a lawyer.
LegalZoom offers the following services:
Business Formation Documents and Services
Register Agent Services
Living Trusts & Wills
Copyright Applications & Trademark Registration
This review will focus on registered agent services and business formation.
LegalZoom is a pioneer, having been one of the first to offer these services online. It also popularized the idea that you can get many legal services without the need for an attorney.
LegalZoom was founded much later than ZenBusiness. The founders founded CorpTech, a white-label formation company that provided leads to small law firms to build their businesses.
After the success of CorpTech teetering, it was decided to create a company that could help small businesses get started. ZenBusiness was born.
Small businesses were lacking the right platform to manage their products or services. This was what was found. They also needed the guidance of experts to help them form and run their own businesses.
ZenBusiness was created to address the needs of small business owners. It offered services like incorporation, LLC formation, and registered agent services.
Comparing Incorporation Prices
LegalZoom provides an array of legal services. Economy Package: $79
All fees except state fees are excluded. LegalZoom offers the following services:
VIP Processing
Express Shipping
All paperwork is handled
This is a once-off fee. You will need to add additional services to your package if you wish to get them. You may need to pay an annual fee for some services.
ZenBusiness offers a low-cost incorporation package starting at $49 per annum. However, you will need to pay in-state fees, and they vary from one state to the next. This service also includes an Operating Agreement, as well as registered agent services.
Each of the three ZenBusiness packages includes the following:
ZenBusiness will file documents for you
Annually, file report alerts
Each year, you can make two filing changes for free. State fees are still applicable.
Supervises the efforts to restore good standing in a state
ZenBusiness will help you make up any work you have missed or correct any errors in a filing. ZenBusiness can help you with oversights when running your own business.
ZenBusiness offers a "Basic" package for free that includes business name searches and filing corporate documents. However, it is essential, and most people either skip it or buy a lot more addons. The most requested package is the Pro Package.
ZenBusiness offers three packages to help you incorporate your business.
Starter: $49/year plus State fees
Articles of Organization
State Filing & Verification
Name Availability Search
Personalized Dashboard
Chat Support in Real-Time
Operating Agreement and Bylaws
Register Agent Services
Delivery of corporate forms within 3-4 weeks
This package includes support and the registered agent fee.
Pro: $199 per year plus state fees
Everything included in the Starter Package
No worries Guarantee
Employer ID # ( ).
Delivery of the form within 1 to 2 weeks
This package is ZenBusiness' most-requested for business formation services.
Premium: 299 per year plus state fees
Everything included in the Pro package
Business email address
Domain name registration & domain privacy protection
Delivery of the form within 3 to 5 business days
The Premium package is for larger companies with more significant needs.
What is included in the packages is what makes LegalZoom and ZenBusiness stand out.
LegalZoom might seem like a more affordable option at first glance, but it lacks many of the features ZenBusiness offers with its services.
The registered agent services are perhaps the most important. ZenBusiness offers them in the first year, even if you select the $49. Starter package. It's $99 per annum after that. LegalZoom doesn't offer this service. However, they charge $159 per annum if you need it.
The operating agreement is another difference and is available for free with ZenBusiness, but costs $99 from LegalZoom.
Price Winner ZenBusiness
Registered Agent Service Comparison
Many people are unfamiliar with the term "resident" or "statutory agent." However, they may not be aware of what a registered agent does for their company.
A registered agent acts as an intermediary between the company and the state for any required paperwork.
If the state requires updated paperwork, a court filing or summons has been filed. If a new law mandates notification of changes to existing regulations, the information is sent instead to the registered agent.
A company without a registered agent could be in serious trouble. The company owner can appoint a registered agent. However, this is often not desirable due to the increased paperwork and demands from the state.
Business owners will find it beneficial to have a registered agent. They can then concentrate on their businesses and get information from the state via their agents about any legal changes, obligations, or requirements.
Both LegalZoom, as well as ZenBusiness, offers registered agent services. ZenBusiness offers registered agent services, which can be used to form a corporation or LLC. The difference is that ZenBusiness includes this service in their Starter package for the first year and $99 each after that.
LegalZoom provides such services at $159 per annum, which is significantly more expensive.
ZenBusiness is the more affordable registered agent service. There are no apparent differences.
ZenBusiness is an excellent choice for those who need registered agent services.
Winner-ZenBusiness
Comparison of Customer Service
LegalZoom's most significant advantage is its ability to provide quick customer service. This is in large part due to LegalZoom's efforts to upsell its services to customers.
LegalZoom's customers are the focus of a large portion of their business.
ZenBusiness is rapidly catching up and offering reliable customer service. ZenBusiness was initially focused on its primary services and did not have a customer service branch.
This area has been addressed, and ZenBusiness, while LegalZoom has some advantages in terms of information and contact points, is now not far behind.
The final decision between Legal Zoom or ZenBusiness is to choose which company offers the best combination of business formation and registered agent services, with the proper support and customer service.
Zen Business is the clear winner when you consider all this. Although it is not as well-known as Legal Zoom, Zen Business offers the right combination services at an affordable price.
ZenBusiness' pricing and plans are easy to understand and simple to price. You can also choose from a variety of packages that will be tailored to your needs.
LegalZoom is a bit more complex. This business model is designed to attract new customers. It's not surprising that LegalZoom's customer service efforts are geared towards selling new products and services.
---
Top 4 Best Registered Agent Services For 2022
We examine our top 4 best registered agent services for LLCs and corporations in 2022. The registered agent can be the same company you use to file your LLC or be someone else.
Whether you need a California registered agent or a Texas registered agent, these services are available to be your agent in any state in the U.S.
For most states, an essential requirement when forming a new company, especially an LLC, is to secure a registered agent.  A registered agent represents the company, they are required to have a fixed address in the state where the business was established and who will receive all the correspondence between the company and the Secretary of State.
The registered agent can also receive all legal notices, billings, proposals, and mainly any physically sent correspondence to your company. The registered agent can be the same company you used to file your LLC or be someone else. Here are the top four best-registered agent services out there.
---
Northwest Registered Agent 
Northwest Registered Agent has offices in 50 states and a BBB rating of A+. They are the leader in registered agent services.
Unlike Zenbusiness and other companies in this list, Northwest R.A. (R.A. standing for Registered Agent) is a registered agent first, and legal services and business formation second. Unlike Zenbusiness, Northwest has extensive experience behind it as it's been in the business for 20 years.
This experience makes Northwest a shoo-in even if you decide to form your company elsewhere. Suppose you choose to create your company with Northwest for $100 + $125 = $225. you get a business formation and one year of registered agent service.
At $125 annually, it's a little more expensive than Zenbusiness but a lot cheaper than other dedicated registered agent services out there. This rate can go down further if your business spans multiple states and choose Northwest to represent each.
Part of Northwest's services is not only to receive your documents but to scan all of them for your online viewing convenience, including junk mail. Others can only document that they're required to. This is part of their well-known support for their customers.
They don't employ apathetic call centers but give their customers direct lines to their assigned corporate guides. Guides who are knowledgeable in their field, allowing questions to be answered quickly and efficiently.
---
Zenbusiness Registered Agent Service
Zenbusiness is one of many online legal services/business formation services and perhaps one of the best for pricing and catering to small entrepreneurs. They just started in 2015, so this is a company that's out to impress.
Aside from filing your LLC for only $49, Zenbusiness also provides Registered Agent Services free for the first year and then $99 a year after that. Get their Pro Plan with registered agent services and their "worry-free" compliance guarantee, so you don't have to try and remember substantial compliance due dates.
ZenBusiness: Live From Austin, Texas
As required for companies that offer registered agent services, Zenbusiness is always available during business hours. They stay available to receive your business's legal documents and relay those documents to the right people at your business. In the event of a lawsuit, Zenbusiness can act quickly to alert your company.
ZenBusiness will also alert you on missed deadlines, fines, and penalties and do what it can to avoid them so your company remains in good standing with the government and clientele. Your company's compliance requirement for a permanent physical office is also assured, as Zenbusiness physical offices aren't going anywhere.
As a registered agent service, it's also Zenbusiness's job to receive all legal notices, even bad ones (summons, lawsuits, tax notices), should the business temporarily go sour, as a form of protection to keep the morale high among employees and customers.
It should also go without mentioning that Zenbusiness's registered agent service will keep the paperwork down and organized by storing critical legal documents, scanning them to easily be available for download, viewing, and online printing.
All of it, for the low price of $110 annually. These Texas registered agents have agents across the country and are ready to represent you and your business in each of the 50 states.
---
IncFile Registered Agent Services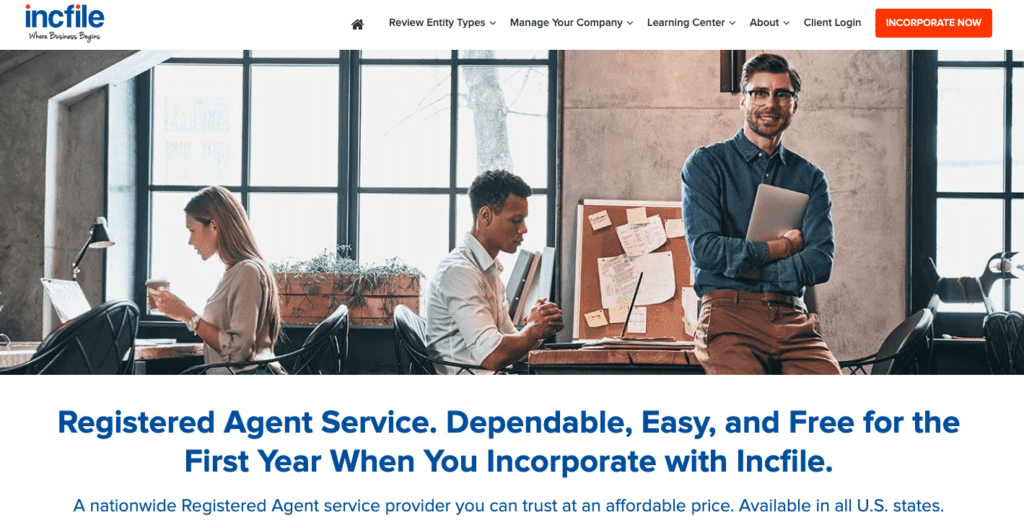 1st Year Registered Agent Services Is Free! Included With Every Incfile Plan! $119. Per Year After That!
Silver Package $0.00
Gold Package ( Most Popular)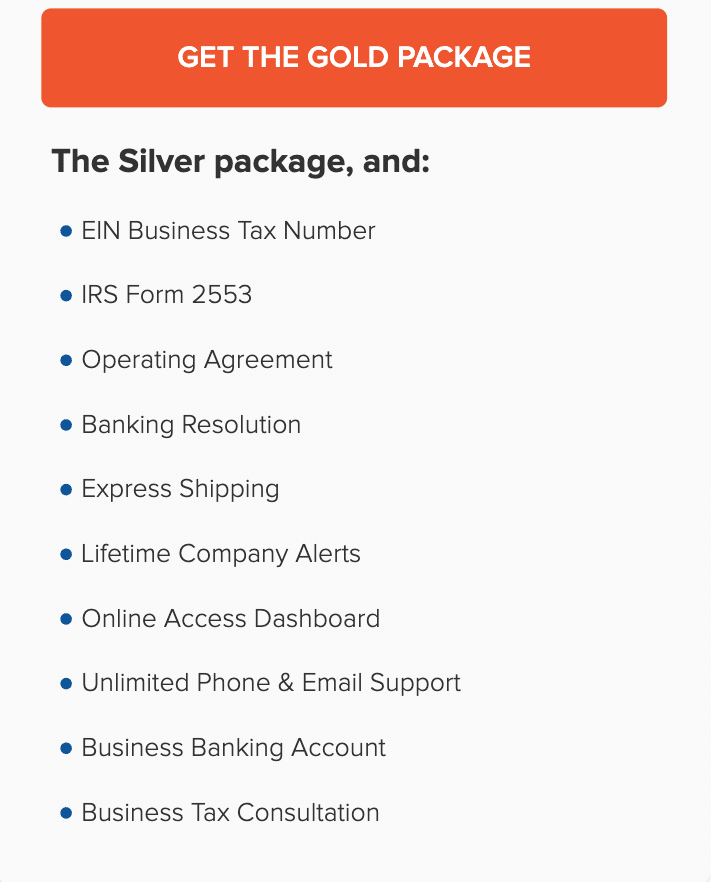 Incfile is well known for fast, inexpensive, and easy LLC formation and, like Northwest, has a little experience under its belt since starting in 2004. By now, it's a name trusted by over 500,000 businesses.
However, like most online legal service providers, Incfile is also into the business of being a Registered Agent. Incfile makes it on this list since it would be the most affordable way to get Registered Agent service and form a company at the same time at $149. The R.A. service is free for the first year of the $149 LLC formation.
As a Registered Agent, Incfile's reviews are pretty decent compared to other R.A. services. Their features and customer support may not be as extensive as Northwest's but is good enough for most. Incfile's standalone R.A. service costs $119 per year, which is still affordable.
However, their R.A. service is limited to legal and tax correspondence and not a general business/mail forwarding address.
However, like an excellent registered agent, Incfile is always open to receiving legal correspondence during regular business hours, notifying your company via phone or email upon receipt of legal documents, and forwarding those legal documents to your company.
Visit Incfile
---
Swyft Filings Registered Agents
Very much like Incfile, Swyft Filings is a business formation first, Registered Agent second. Unlike Incfile, however, they charge slightly higher at $149 annually for R.A. services, attributable to better quality services and customer support. Swyft Filings does have plenty of positive reviews.
Like Zenbusiness, Swyft Filings is also relatively new after starting in 2012. However, unlike the latter services, R.A. services are not bundled with Swyft Filings' LLC formation packages.
While priced a little higher, Swyft Filings has all the trappings of a typical registered agent service, such as receiving all legal and taxation paperwork; ensuring compliance for their clients through notices and reminders for legal obligations, and making things more accessible through their online dashboard, and privacy protection from adverse legal notices.
Swyft Filings is available in all 50 states, so there's no worry about whichever state you want to form your company or how many states your company is engaged in. Renewal with Swyft Filings R.A. services is automatic, which adds to their no-worries policy.
Again, with their pricing, reliable service is assured as the only thing that sets them apart from the likes of Incfile is good reviews. Swyft Filings is the right choice for a registered agent service if you don't want to leave anything to chance.
For more info, visit Swyft Filings.
---
Registered Agent FAQs
Why have a Registered Agent?
A registered agent is part of a compliance requirement for most businesses, especially after forming an LLC. The state requires a permanent address to which they can send their legal documents.
Lacking a registered agent means hefty fines, losing a business license, or even criminal charges. If you intend to form a company, you'll need to get an R.A. from your business formation service as part of a formation package or acquire this service from dedicated R.A. services.
My LLC Formation Service bundles R.A. Services. Should I take it?
There are hardly any reasons why you shouldn't. The main advantage for most is the free first year of service, except for Swyftfilings. You could check the reviews for the services listed above. Should those services prove unsatisfactory, there's always the option to change to a more dedicated service.
Can I change my Registered Agent?
Yes. You need not be tied to your formation service's registered agent services. It's possible to move on to a more dedicated R.A. service or become your own (not exactly a good idea). It requires some legal paperwork, specifically a 'change of registered agent form' that your formation service can perform or something you can file yourself.
Can I be my Registered Agent?
Yes. It's possible to be your registered agent, provided your company has a physical address. It can save at least a hundred dollars per year. The cons of being your own registered agent mainly involve privacy, not to mention the extra work of keeping track of legalities. Your company will be subject to junk mail, as well as embarrassing legal notices your staff or other people are not meant to read.
If not me, can my accountant lawyer by my registered agent?
Yes. It's entirely possible. It's even better than being your own registered agent. However, the disadvantage of this would be the price. This adds to an already expensive per-hour fee your lawyer or accountant gets. Professional rates are much higher compared to dedicated registered agent services.
Are Foreign Companies Required to get a Registered Agent?
Yes. If the business is registered and conducts business in any state that requires one, in a process known as foreign qualifying. If the company runs in a state other than where it was formed, has a physical presence in that state, has employees in that state, has a bank account, and earns revenues from that state, then yes. The foreign company can form a separate LLC in the state and secure the R.A. services of the companies listed above, among others.
Can I get the services of different registered agents?
If your company spans different states, yes, one branch can acquire one service, for instance, Incfile, while another branch can have the assistance of Zenbusiness. This way, you can gauge their quality of service and unify later.
The list of Registered Agent services above is meant to help you see the best that's available. These are the first companies you need to call to acquire a registered agent, fill for an LLC, or both. Being the best is relative. This list narrows down your choices in determining which is best.
---
---
Additional Reading On Business Formations
---